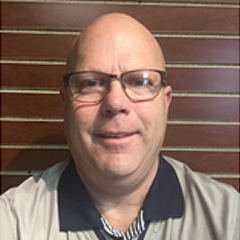 Golf Professional: Rick Sumpter
Rick Sumpter is the PGA Head Golf Professional at the Moila Country Club.
Born and raised here in St. Joseph, Missouri, Rick graduated from Missouri Western State University with a BSBA in Accounting where he played varsity golf and also attended the National Championships as a freshman. His father, Buddy Ray Sumpter was a long-time Shriner and member of Moila Country Club until his passing in 2016. Rick returns to his childhood course after several stints in the area as an assistant and more recently as the General Manager and Head Professional at Bellevue Country Club in Atchison, Kansas for 15 years.
Rick Sumpter has proven that customer service and member relations is vital to a successful operation in a private club setting, 'Our goal is to provide outstanding service to which the membership here at Moila Country Club want and deserve.'